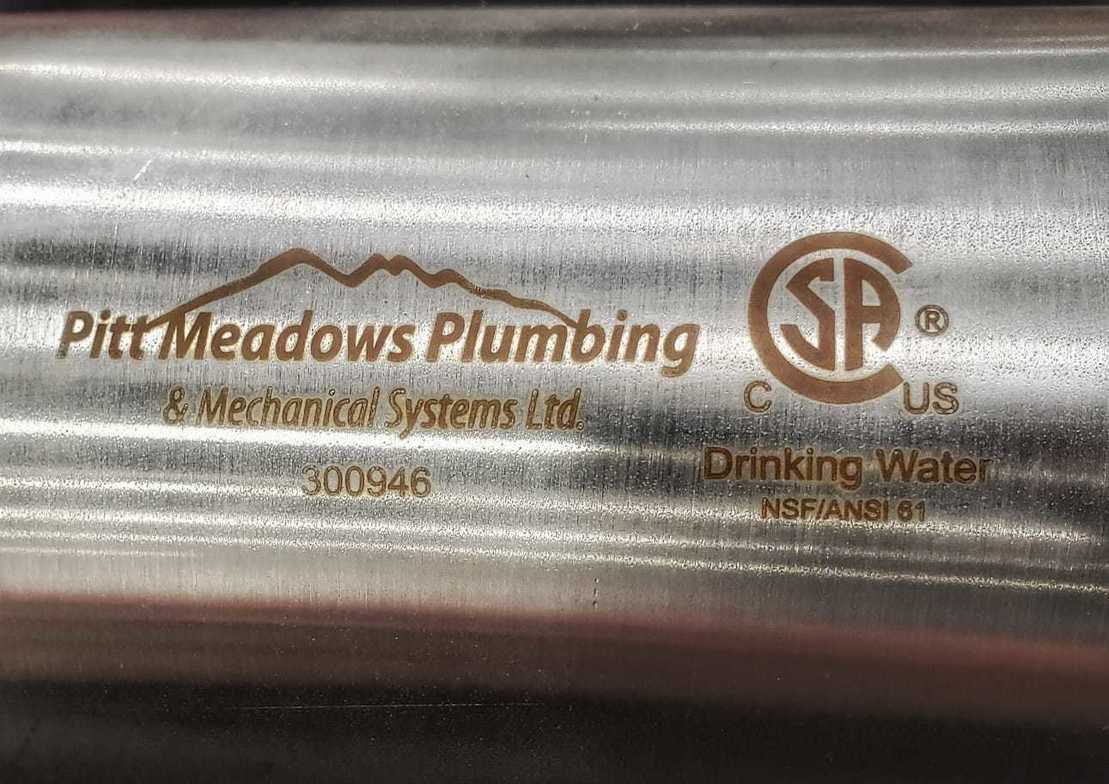 The stainless steel pipework fabrication team at Pitt Meadows Plumbing & Mechanical Systems Ltd has worked with the CSA Group for the last number of months to achieve the CSA NSF/ANSI-61 certification for domestic drinking water pipework spools being fabricated in their Maple Ridge Shop location. This certification allows the company to manufacture pipework to the highest standards in Canada, before shipping to their various job sites across Metro Vancouver and beyond, including a hospital project in Kamloops.
NSF/ANSI Standard 61 (NSF-61) is a set of national standards that relates to drinking water and establishes stringent requirements for the control of parts, pieces and equipment that come into contact with potable water or products that support the production of potable water.
Most Canadian businesses with this certification are suppliers of potable water tanks, piping and materials related to the delivery of drinking water. To have a mechanical contractor earn the certification is unusual, but Pitt Meadows is not a 'usual' mechanical contracting company. The organization pivoted towards off-site prefabrication 6 years ago and the recent CSA certification helps to solidify their reputation as being trailblazers in their industry.
"We have worked closely with the CSA Group to ensure that our fabrication methods and welding standards meet the stringent requirements of the NSF/ANSI-61 certification. Over the last few years, we have developed the most advanced stainless-steel pipework production methods available to the market, leveraging 3D modelling, automated machinery and orbital welding robots.
This led us to maximise our welding of stainless pipework, ensuring a high-quality plumbing installation for our clients, whilst removing potential leak paths from every system we install.
By achieving our NSF/ANSI-61 certification we have cemented ourselves as the leading Mechanical and Plumbing Contractor in BC, keeping us ahead of our competition and the move by British Columbia to require the NSF/ANSI-61 certificate to weld stainless pipework for plumbing systems."
Sam Revel, Senior Prefabrication Manager
For a full list of Canadian businesses with CSA NSF/ANSI-61 certification click here: https://www.csagroup.org/testing-certification/product-listing/ and type in Class Number 6861-04