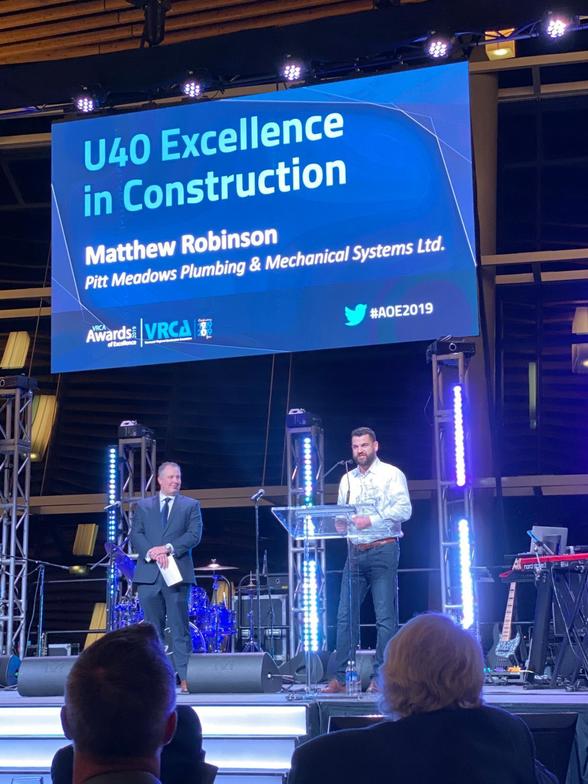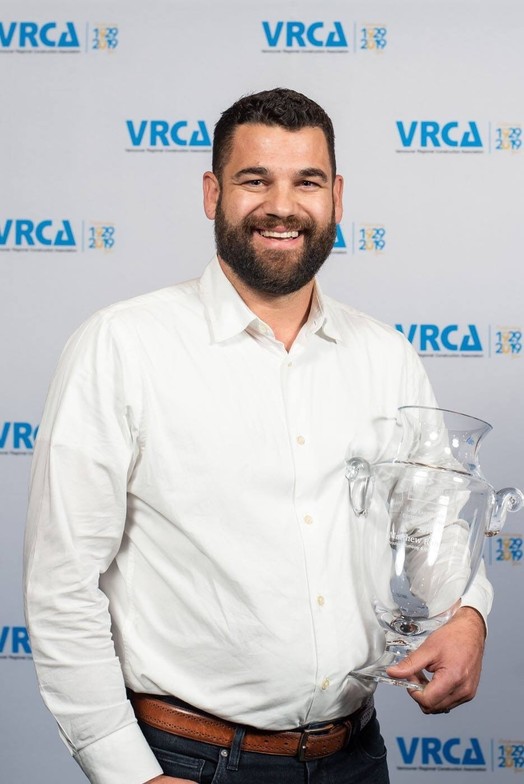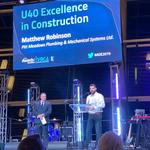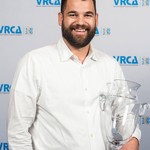 On Monday, October 28th 2019, the Vancouver Regional Construction Association hosted their annual Awards of Excellence. The event was hosted at the Vancouver Convention Centre and was a showcase of the very best that the construction industry has to offer. Each year, various individuals, companies and projects are nominated for excellence in construction.
This year, Matthew Robinson, Vice President at Pitt Meadows Plumbing & Mechanical Systems Ltd. was the recipient of the Under 40 Excellence in Construction Award. Matthew represents the second generation of leadership at Pitt Meadows Plumbing and has been a major driving force at the company over the last 7 years. His passion and drive along with his ability to build strong working relationships with everyone he meets are just a few of the traits that assure everyone around him that his leadership in the company is making a difference.
Matthew currently oversees many aspects of the business, but focuses much of his time on garnering new business while also ensuring that the teams are in place to deliver on the promises that Pitt Meadows Plumbing makes to its clients. Upon receiving the award, Matthew dedicated it to the entire PMP team and was quoted as saying, "Thank-you to everybody I work with. The last seven or eight years have been really mind-blowing. It's quite exciting to be part of our construction industry these days."
Part of the nomination process for the award was receiving recommendations from industry peers and colleagues. Based on what was received, it is clear that the difference Matthew makes goes beyond his work at Pitt Meadows Plumbing. Sanjeev Dhillon from Procore (an industry leader provider of construction management software) is quoted as saying, "Matthew is amongst our very best young leaders, an unsung hero whose passion and altruistic nature personifies the values of professionalism, empathy and commitment that makes for a lasting and meaningful impact on our industry and community."
Please join us in congratulating Matthew on this award.