The "Future of Work" Event is taking place in Maple Ridge, BC on April 22nd, 2023 from 9:00 am until 12:00 pm to introduce students & parents to the vast opportunities and innovations in the construction industry.
To celebrate Earth Day, Pitt Meadows Plumbing, along with Major Partner, Viega, is proud to host a hands-on, informative event for the next generation of construction workers.
The future of construction is changing at a rapid pace due to technological advancements and innovative solutions in manufacturing, AI, robotics, and automation, helping to solve the many challenges facing our industry.
The event will take place at the Pitt Meadows Plumbing Shop located at 20142 113B Avenue in Maple Ridge.
Tickets are free of charge and include meal vouchers.
World renowned keynote speaker Amy Marks, the "Queen of Prefab" from Autodesk, will be joining the event to speak on what the next 25 years in Construction look like, highlighting these innovative solutions and the endless opportunities available to people seeking a career in the Trades, Engineering, Manufacturing and Construction.
"As a company we made the decision to be proactive about the skilled trades labour shortages and are hosting this event to showcase this industry for the next generation. Our current team has 14% female representation, and we need to see that increase to at least 40% in the next 10 years. We also feel strongly that underrepresented groups, especially those who are First Nations, Metis & Indigenous, need to be attracted and retained in this industry. Otherwise, it simply is not sustainable – we cannot continue to do what we have always done and expect our serious skilled labour shortage to improve."

- Steve Robinson, President, Pitt Meadows Plumbing

"Viega is very excited to sponsor this event and support the efforts it's contributing to the advancements in our industry and workforce. There is a big responsibility for us to invest heavily in creating awareness around the opportunities that are available to the younger generation. Being part of this event allows us to establish those connections and show our support."

- Rebecca Stamey, Social Media & PR Manager, Viega

"I'm very excited for this event because sustainability is not just about celebrating Earth Day and our planet, but social and industry sustainability. Our ecosystem needs young people to want to be in our business. This event is special because it's giving them exposure and awareness."

- Amy Marks, VP Enterprise Transformation Practice, Autodesk
Students and Parents who wish to register can go to: Future of Work Registration - Morning Session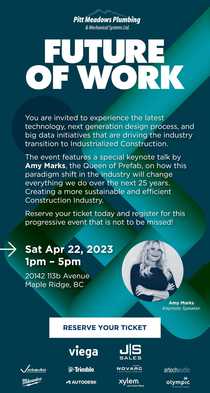 There will also be an afternoon event from 1:00 to 5:00 pm geared towards those who currently work in the construction industry: General Contractors, Suppliers, Trade Workers, Developers, Owners, and anyone who wants to learn more about Industrialized Construction.
There will be a special keynote talk by Amy Marks, the Queen of Prefab, on how this paradigm shift in the industry will change everything we do over the next 25 years. Creating a more sustainable and efficient Construction Industry. Tickets for the afternoon session are $200/person and include a meal voucher and drink tickets.
To register: Future of Work - Industry Networking Afternoon Session
Host Sponsor: Pitt Meadows Plumbing & Mechanical
Major Partner: Viega
Platinum Sponsor: J&S Sales
Gold Sponsors: Victaulic, Olympic International
Bronze: Xylem
Booth Sponsors: NovARC Technologies, Trimble, Milwaukee Tools, Revitzo, STRATUS
Partners: Autodesk, Noble, Artech Audio